An unforgettable holiday in Cappadocia
It is an excellent choice to pass. You can also contact us to discover the beauties of the region and stay in a comfortable atmosphere.
Escape the ordinary and step into a world of wonder at Mak's Cave House, where the fusion of ancient cave dwelling charm and modern luxury creates an unforgettable stay amidst stunning natural beauty.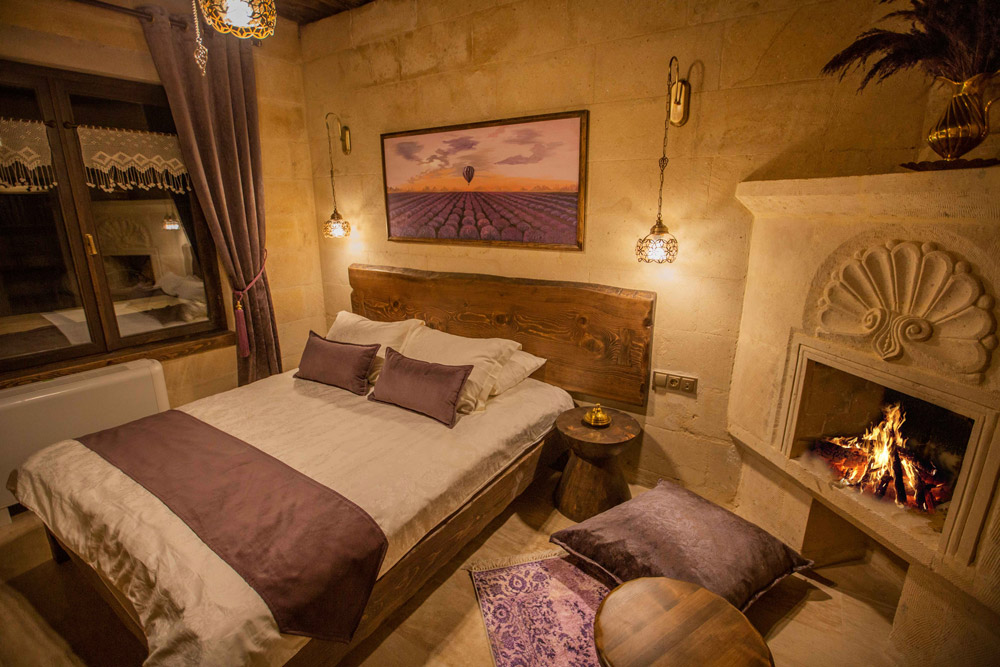 The Lavender Stone Room at Maks Cave House is a peaceful and comfortable stone room that features beautiful lavender-themed decor and stone walls.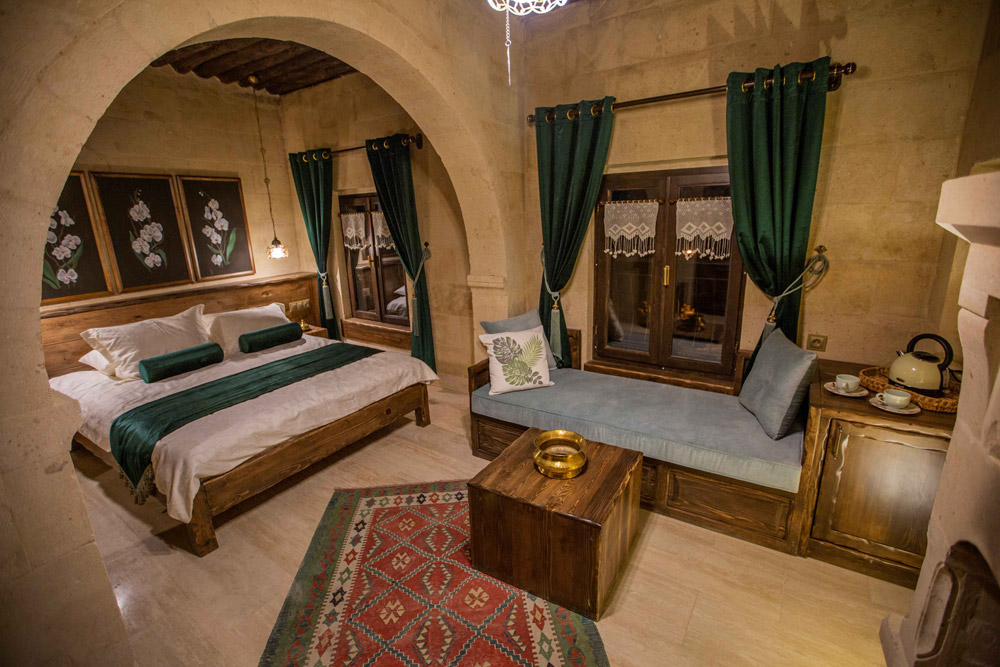 The Orchid Stone Room at Maks Cave House is a luxurious and spacious stone room that features elegant orchid-colored decor and modern furnishings.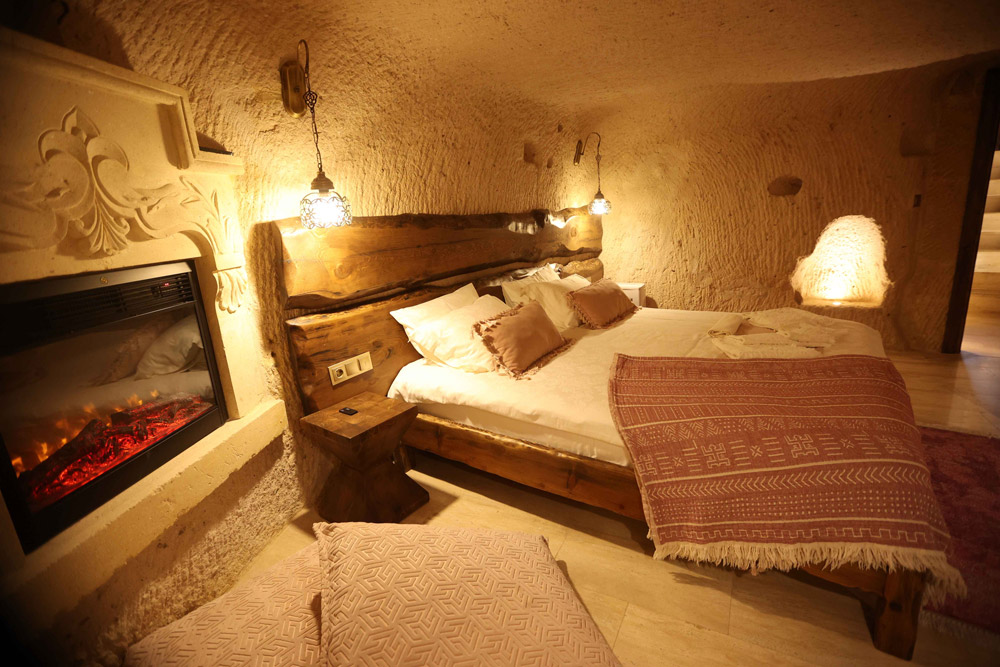 The Tulip Cave Room at Maks Cave House is a unique and cozy cave room that features beautiful tulip-themed decor and natural walls. 
Transform your Cappadocia stay into a bespoke luxury escape with Mak's Cave House concierge service, tailored to your every desire
At Mak's Cave House, we understand that every traveler is unique and has their own specific needs and interests. That's why our concierge service is designed to cater to your individual preferences, ensuring that your stay in Cappadocia is nothing short of exceptional.
Our team of dedicated professionals is on hand to assist you with anything you may need, from restaurant reservations and transportation arrangements to organizing personalized tours and activities. We take the time to get to know our guests and their interests, so we can provide recommendations that are tailored to their tastes.
When you stay with us at Mak's Cave House, you can trust that every aspect of your trip will be taken care of with the utmost care and attention to detail. Our specialized personal service ensures that your Cappadocia experience is truly one-of-a-kind, leaving you with unforgettable memories that will last a lifetime.
Отличный вариант в Каппадокии Очень уютный семейный отель на 5 номеров. Красивые интерьеры. Вкусно кормят. Персонал очень отзывчивый. Во всем стараются помочь. Расположение очень удобное. До крепости 5 минут пешком. Парковки как такой нет, перед входом влезает всего две машины. Но машину можно оставить на улице сверху.
6-star hotel and staff!! I cannot say enough about Mak's Cave House. The place is AMAZING. The cave room is out of this world! We had such a great experience. The staff was beyond accommodating and professional with us. I would recommend this place to anyone visiting Cappadocia.
Un soggiorno da sogno Ho trascorso 4 giorni in questa magnifica cave house con il mio compagno in occasione del nostro anniversario di fidanzamento.Al di là della location davvero suggestiva, il personale composto da sole donne si è rivelato essere il punto di forza.Gentilezza e disponibilità sono stati il collante di ciascun giorno trascorso.La colazione, abbondante e curata nei minimi dettagli, abbraccia la tradizione culinaria locale. Davvero ottima!Le camere sono pulitissime e dotate di ogni comfort. Il personale ha inoltre contribuito all'organizzazione della sorprendente proposta di matrimonio da parte del mio compagno: è stata adibita la terrazza della cave house con cuscini, palloncini e champagne. È stato tutto perfetto e non potrò che ringraziare quelle magnifiche donne per tutta l'attenzione dedicataci.La Cappadocia e i suoi balloons meritano uno e più soggiorni ma questa Cave House e il suo personale mi è ci riospiteranno di certo.Grazie di cuore a tutte voi❤️
Great staff and a great experience I stayed at this hotel in December 2022, I stayed for 3 nights. I would like to thank the staff at the hotel and cannot praise them enough. They were so hospitable and very helpful. The staff were warm, friendly and polite. The rooms were clean and tidy, I stayed in the tulip room and my friend stayed in the orchid room. Both rooms were decorated to a high standard and have all the amenities you require. You also get an amazing view on the terrace in the mornings and in the evenings.The breakfast is served on the terrace and it is a feast. I would definitely recommend Mak's Cave if you are visiting Cappadocia. Thank you for making my stay a memorable one.
Home Away From Home!! Mak's Cave house is a boutique hotel managed by excellent staff. The owner Mrs. Mak's is a very friendly person and made us all very comfortable. We were a group of 10 people celebrating a several milestones of the family members. She made our stay a memorable one by making arrangements for the occasion. One of the family member was ill & Mrs. Mark was very helpful in getting medical treatment. The hotel is located in a fabulous location. The view from the terrace is gorgeous. The place is well maintained. We are vegetarians and Mak's family took special care in providing a large spread of excellent food. I would strongly recommend this place for people who want a home away from home. Thank you so much Mrs. Mak for making our stay a memorable one.
Best boutique cave hotel to celebrate your birthday in Cappadocia with an exceptional service and hospitality experience I love everything about the hotel. The attention to detail and aesthetic of each of the rooms are decorated beautifully. I loved having breakfast on the rooftop.The owner, Mak and her team (Gozal, Aysha and Ali) were very hands on and went above and beyond to make sure we are well taken care of - from arranging transportation, booking activities, helping out with late night food ordering and even arranged last minute shopping of souvenirs on my last day. The best part of it, while I got a 5 star treatment you would normally get from a commercial luxury hotel, it felt like home. It didn't feel like I was staying in a hotel rather I felt like I was a guest at someone's home.The location is fantastic and lest touristy. It is overlooking the Pigeon Valley and within 5 minute walking distance to Uchisar castle and to some of the best restaurants. It's close enough to Goreme (about 7 minute taxi ride).I highly recommend staying at Mak's Cave Hotel. I will definitely come back!
Unique AMAZING hotel We stayed at Maks Cave house for 2 nights in Capadocia. The staff were very accommodating and friendly. The room was one of the best we've ever stayed at, it was so very unique yet cosy with a modern feel to it. The receptionists, chefs and waitresses went above and beyond to make sure we enjoyed our stay. The views from the terrace and dining area were extraordinary. Highly recommend this stay to anyone going to the area!
A wonderful boutique hotel The location is perfect. Being close to the high point of the castle means it offers amazing views looking over the valley. Watching dozens of balloons fly while eating a delicious breakfast on the veranda is an incredible experience. Our cave room was luxurious and very well fitted out.All the staff were very nice but the owners, Mak and Seckin, were an especially lovely couple who were really helpful, making sure we got the most out of our all too short time there. They arranged the balloon trip, horse riding and a dervish show.
Спасибо за волшебный отпуск! Один из лучших отелей в которых я был! В отеле чисто и очень красиво, оформление просто нереальное! Продумано все до малейших деталей! В нашем номере был камин, очень атмосферно. Завтрак (разнообразный и вкусный) на терассе с видом на старый город, крепость Учхисар и долину, воздушные шары в небе! Вид дух захватывает! Хозяева отеля и работники очень добрые и гостеприимные! Спасибо за эмоции, тепло и уют!
Maks cave house Samimi ,sıcacık,tertemiz bir otel şiddetle tavsiye ederim, inanılmaz bir manzarası var daha önce kapadokyaya gelmemistim gezdikten sonra anladim ki en doğru yerde kalmışım,ilk kez temmuz ayında gitmiştim ama ikinci kez Şubat'ta gittim yazı ayrı kışı ayrı güzel ,kendinizi evinizde gibi rahat hissedebileceginiz bir mekan ,benim gibi temizliğe önem verenler için de bulunmaz bir yer.iki kez gidebildim bundan sonrada gitmeyi planlıyorum,ayrıca tüm arkadaşlarıma önerdim ,giden arkadaşlarım da aynı memnuniyetle döndü,herşey için teşekkürler maks cave ailesi♥️♥️♥️